While many companies have only recently begun to dip their toes into the remote work waters, Modern Tribe has been fully remote for 15 years. So it's probably unsurprising that our team members tend to have strong opinions about the best tools to get stuff done any place, anywhere.
Actually, it's common for several Triberians to own the same [fill in high-performing product here] because someone asked for a recommendation in Slack, and folks eagerly talked up their fave, triggering a purchase.
After an especially spirited discussion a couple weeks ago about the best external mouse on the market, we thought, Why keep our most treasured tools a secret? So in the spirit of giving this holiday season, we've namechecked electronics and furniture that 10 of our team members consider essential to a good day's work—the makings of a great gift list for the remote worker in your life. (Even if that remote worker is just you. Treat yo' self!)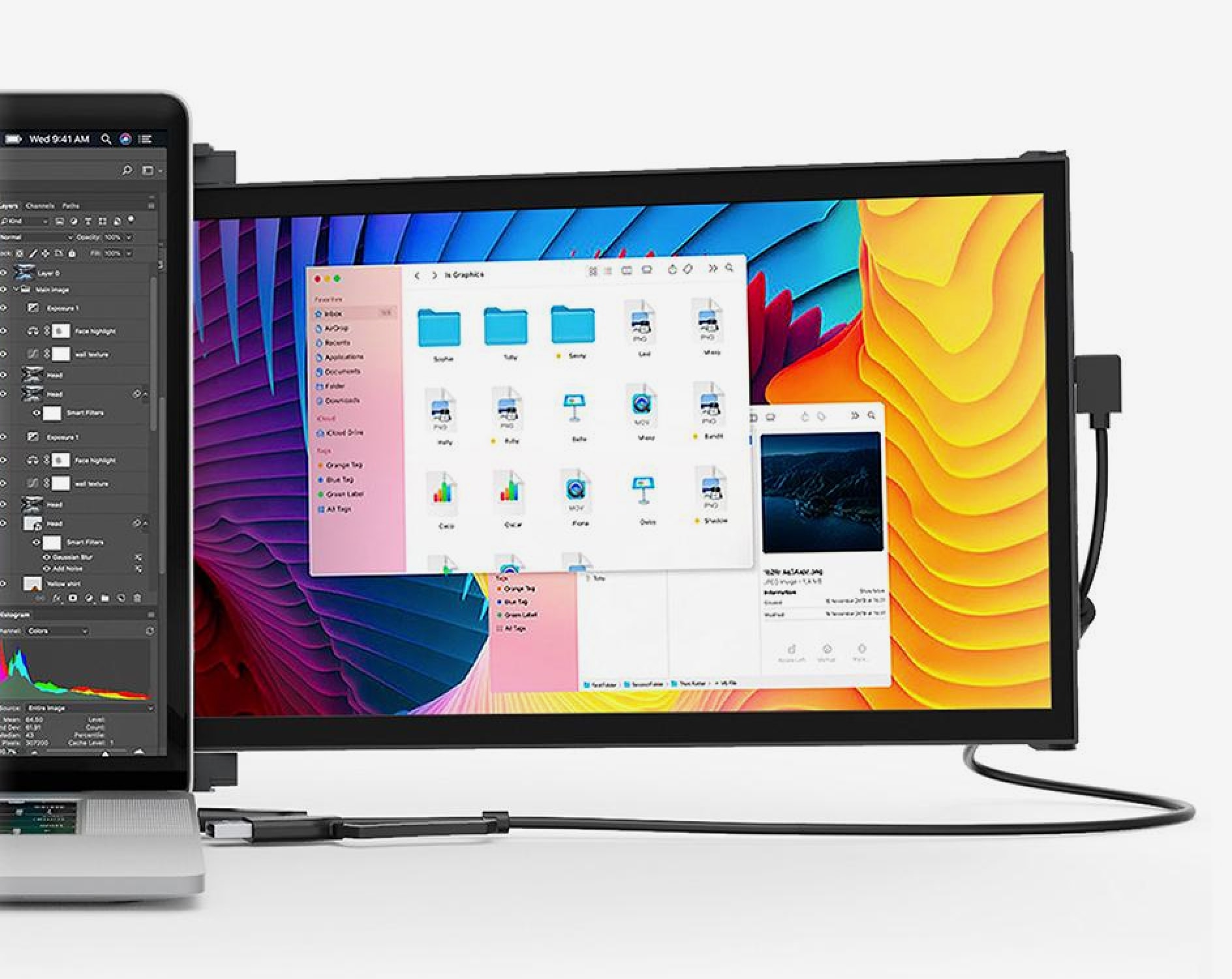 Monitor
Why Miranda loves it: "It's super compact, it runs off of your laptop's power, so you don't need a separate cable, and it slides neatly into place on the back of your laptop when not in use. The screen quality is fantastic, and it even works with a Nintendo Switch!"
Miranda, Project Manager
Keyboard
Why Jason loves it: "This ergonomic keyboard has been great for me. I love the keys for common mouse actions: select all, copy, paste, etc."
Jason, Frontend Engineer
External Mouse
Why Roberto loves it: "I was developing carpal tunnel a few years ago, and this mouse really helped me overcome it. I've been using it since and never looked back. It has no learning curve, even if the shape looks weird. It's extremely comfortable for prolonged use, and you can adjust the DPI—how fast it moves—using the top button and just scrolling if you have the Logitech software installed, so I use that for gaming. It also has amazing battery life and charges fast with USB-C."
Roberto, Backend Developer
**Because We Couldn't Pick Just One**
Why Sylvia loves it: "I got this one for $20 on Amazon! Works great, I can easily throw it in my bag for travel, and it's designed for smaller hands."
Sylvia, QA Analyst
Webcam
Why Nick loves it: "Literally the only external webcam that works for Macs if you want one on your giant HD monitor. I went through three less expensive webcams that said they were Mac-compatible before just buying this one.
Nick, Director of Engineering
Headset
Why Paul loves it: "It has great talk time on battery and good sound quality."
Paul, Product Owner
Dock
Why Vinny loves it: "The best dock I've owned. It's a bit on the expensive side, but I've had it for three years and had very minor issues. It supports DisplayPort and Thunderbolt for monitor connections, USB type A and C, Ethernet, optical audio, and ⅛ inch audio in/out."
Vinny, Frontend Engineer
Desk Chair
Why Helen loves it: "I love this chair because it reduces back and neck strain, and it's fidget-friendly, so I'm not stuck sitting in the same posture all day."
Helen, Business Development Lead
**Because We Couldn't Pick Just One**
Why Allison loves it: I'm tall, so it was hard to find a chair where the headrest would fit me, and it's a gamechanger having one, especially if you have a lot of meetings where you're not presenting. You can just sit back and relax. The headrest, lumbar support, mesh, and adjustable height make this chair super comfy. I strongly recommend it. After using it, I'm so offended by the concept of lower chairs.
Allison, HR / DEI Consultant
Standing Desk
Why Tim loves it "I've had this for about a year and a half, and it has been rock solid. I'm really happy I bought the optional clamp-on surge protector. It's nice having some outlets and USB ports right within reach to charge my mouse, AirPods, phone, and keyboard whenever necessary. I bought the 60-inch by 30-inch bamboo top, which was the biggest they offered at the time. I believe they have a 72-inch by 30-inch now, and I would buy that if I was to do it again today. More desk space equals less clutter for me."
Tim, Frontend Engineer
And Another Thing…
If even one of these tools makes someone's workday a little less taxing or more productive, we'll consider this roundup time well spent. But we'd be remiss if we didn't point out that, no matter how good your gear is, you can't perform at your best if your brain is fried.
Breaks are essential, too! To learn when and how our team members suggest taking a breather, check this out.