On Turning a Hobby Into a Career
I stumbled into design as a teenager. My grandmother had a computer with an internet connection—a big deal in 1996—and I eventually scored a pirated copy of Photoshop. I was obsessed. I started experimenting with graphic design and hacking away on shitty websites purely for my own gratification, and maintained it as a hobby throughout high school.
I look back on those years fondly. The web was so new and yours for the taking. The motivation to teach myself a new skill—because no one else around me could—hunt for answers, and make something was really an irreplaceable education, and that curiosity is still in me today.
It never hit me that I could take that passion and turn it into a career, and my way to being a professional designer is non-traditional. I didn't go to art school or even take design courses in college. I was working full time at Hot Topic to support myself, so I wanted to get through school quickly. I wound up with a degree in English.
After college, my boyfriend, now my husband, and I loaded all of our possessions into my VW hatchback and headed from Iowa to LA. Neither of us knew what we wanted, but we were dumb enough to believe we could figure it out. I had applied for a copywriting job at Hot Topic's corporate office, and on the day we were driving into LA, I got a call from HR that the copywriting position had been filled, but would I be interested in interviewing for a customer service position for the website? Of course I would, and I leveraged that opportunity to work my way onto the marketing team as a print/web designer.
After a few in-house marketing jobs, I realized I needed to transition into a more digital-focused design role, and made the transition to agency work.
On Finding Her Way to Modern Tribe–And Staying
I was working for a small creative shop in Chicago that was imploding when my good friend Josh, another designer here, suggested doing work for Modern Tribe. I was very hesitant to commit to anything long term because agency life thus far had turned me off, so I ventured into freelancing and started here as a contractor. Eventually, my husband and I decided to start a family, and the people and stability of Modern Tribe drew me in.
I've worked at Modern Tribe for three years, and I've never experienced a healthier work environment. "Work-life balance" is a buzzword many employers promise but few deliver. Modern Tribe is a rare exception.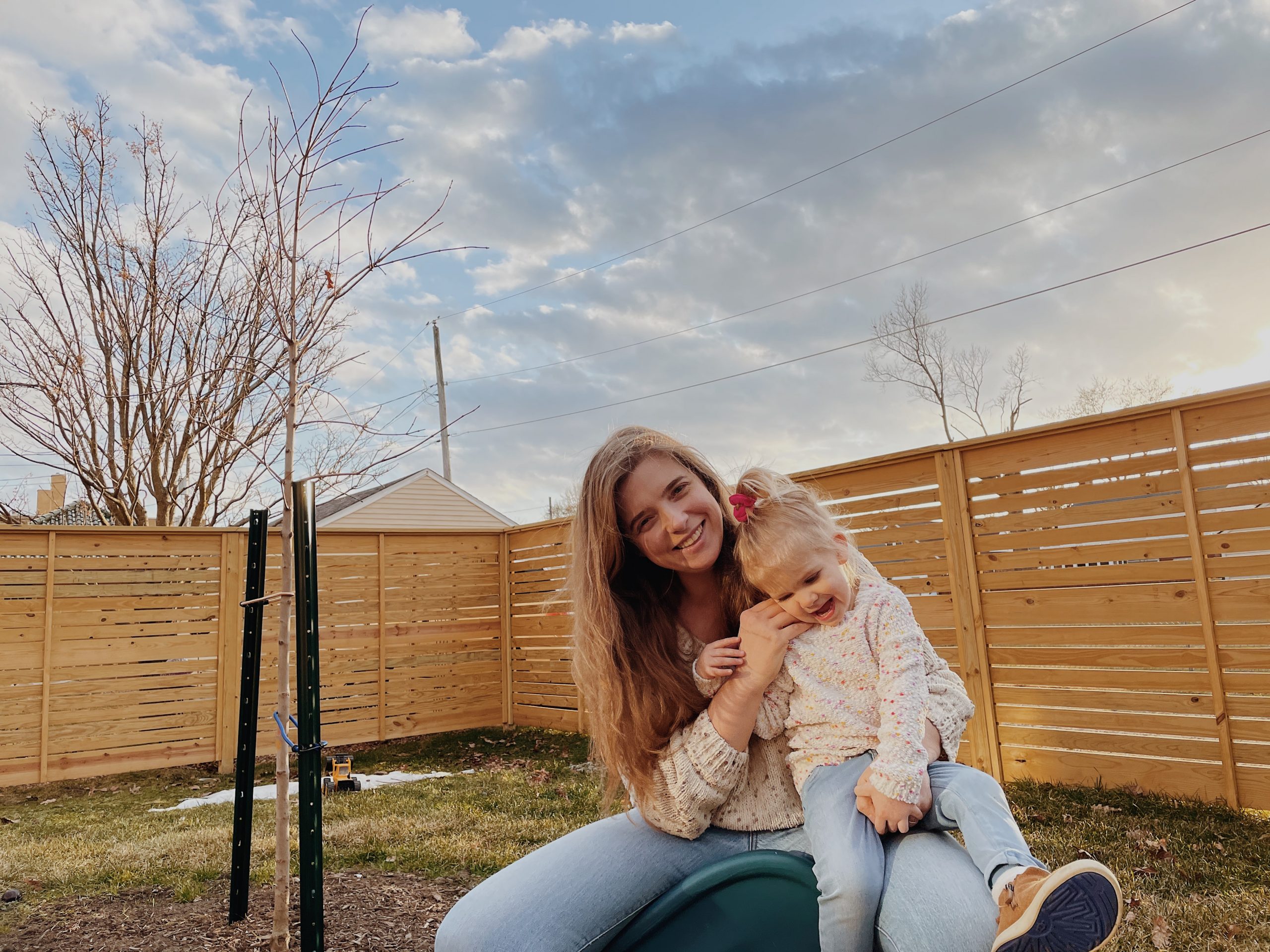 On Her Role and How She Works
I'm a designer focused on brands, products, and websites. Designers are involved in projects from start to finish, defining goals, brainstorming ideas, ideating and testing concepts, and working with engineers and content creators to take it to the finish line. Design acts as a bridge between project goals and a functional, tangible thing. To do that well, I often find myself flexing skills beyond design, like copywriting or helping a client suss out business requirements.
My days are always different, and I'm constantly shifting my process and tools. When I find something I like, I'm such a pusher. You should've seen me when I was switching from Sketch to Figma like I'd found a new religion.
The last few years have brought a wave of new design tools, and I'm a big fan of any that offer real-time collaboration. Currently, I use Miro for brainstorming and ideating, Figma for high-fidelity designs and hand-off, and Google docs for documentation and project management.
On One of Her Favorite Projects
We just wrapped a website redesign for Harvard University, which has been a career highlight for me. To work with an institution as significant as Harvard doesn't come often. But even more rewarding than that was the collaboration between us and the Harvard team. It led to very intentional and aligned work that everyone feels good about.
On Design
I love how diverse design is, both in theme and methodology. Even if you find yourself working on projects within the same industry, every project and client and point in time presents a unique opportunity to challenge yourself and be innovative. And because our tools and processes can also be built upon, our method for finding solutions is constantly changing as well.
The principle that has guided me the most in my work as a designer is to stay curious. Exploring the unknown is what's prompted me to keep asking why and what if, challenging me to make more intentional work and grow as a designer.
On Remote Work
The greatest benefit is being near my daughter, Alice, and my husband, Justin. We moved back to Iowa after having Alice, alleviating some of the financial strain that comes with living in a big city and giving us both the ability to be home with her. Justin is her primary caretaker during the day, which affords me time and space to focus on work. The one-hour commute in my previous life has been replaced by breakfast and hangs with Alice, and sure I'm biased, but she is much more fun than staring at someone's bumper sticker. Children can give you new energy and a much-needed break from the stressors of adulthood and work.
On Life Outside Tribe
When we moved back to Iowa, we also bought a duplex in need of love. The renovation has dominated our weekends, but it has been a huge learning experience and offered us a distraction in the midst of the pandemic. Most projects have been DIY: building a fence, tiling a bathroom, and installing a kitchen. Those are some of the bigger projects, but with an old building, there is always something that needs attention.
The duplex is across the street from an incredible park, and I love taking walks with Alice through the gardens and pathways. It's simple, but anything I can do to connect with nature is my happy place: bike rides, hiking, road trips. I'm also very food-motivated, and now that we have some semblance of a kitchen, I'm getting back into cooking and baking. I'm never intimidated by a recipe, which has led to a few catastrophes but keeps me going.
Craving the work-life balance Sarah's found at Modern Tribe? Maybe you should join our team. Check out our career opportunities and see if we've got an opening that lines up with your skillset.